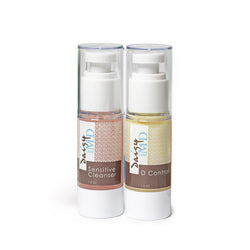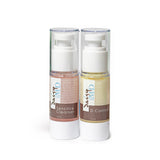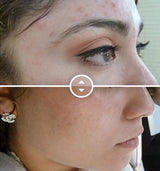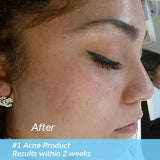 DaisyMDCare
2-STEP ACNE CARE KIT (SENSITIVE)
Clear Skin has never been easier!
This revolutionary two-piece kit quickly banishes breakouts and get acne under control. Penetrates deep down in pores to prevent and kill acne bacteria that cause pimples, scars, and spots. 
The products are designed to work together to clean skin, treat and prevent blemishes, and restore radiance. It's an easy-to-use system proven to give you clearer, beautiful skin.
Includes
Sensitive Cleanser 1 fl. oz.
Medicated Acne Cream 1 fl. oz.
Fights acne
Unclogs pores and controls excess oils
Soothes inflammation and reduces redness
Formulated for all ages and skin types

Features advanced micro-crystal benzoyl peroxide—designed to work faster and gentler than ever before with results in less than 2 weeks

JUST 2 STEPS 2X A DAY = CLEAR, RADIANT SKIN
The 2-Step Acne Care System is loved by thousands because clear skin is possible.
CLEANSING EXFOLIATOR
Apply twice daily, morning and night. Apply a small (dime-sized) to the palm of your hand and add a small amount of water. Gently mix together and apply to dampened skin. Do not rub cleanser, but in very gentle circular motions cleanse   for 30 seconds. Rinse thoroughly with warm water. Pat dry and follow with Step 2 (Acne Cream). If bothersome dryness or peeling occurs, reduce application to once a day or every other day.
ACNE CREAM
If you have blemishes or acne in certain areas of your face or skin (only), simply spot treat those areas by covering the affected are with a thin layer of the Acne Cream. If you are suffering from acne blemishes that are all over your skin, simply pad the cream (do not rub) on those affected areas. Do not apply the cream 2" from around the eye area and facial expression lines. The Acne Cream penetrates deep into the skin and spreads in a 2" radius below the skin's surface so don't worry about covering everywhere. Once the cream penetrates it will do what it needs to do to fight the root cause of your acne. Because drying of the skin may occur, start with 1 application daily, then gradually increase to 2 times daily if needed or as directed. If bothersome dryness or peeling occurs, reduce application to once a day or every other day. 
SENSITIVE CLEANSING EXFOLIATOR
Active ingredient: 1% Salicylic acid
SENSITIVE ACNE CREAM
Active ingredient: 2% Resorcinol